Personal Profile
Details

Category: Articles
Created: Sunday, 28 October 2007 11:18
Last Updated: Saturday, 16 April 2022 06:09
Written by Rick Swenton
Hits: 12318

Rick Swenton, South Dennis, MA
| | |
| --- | --- |
| | I am married to Gail (Planchard) and have two wonderful adult daughters, Cathy and Rachel. They are both graduates of Northeastern University in Boston.  Cathy and her husband Kevin Sullivan along with their son, Colin, and their daughter, Kaitlin, live in the Seattle area.  Rachel is married to Mike O'Connor. They and their daughter, Adelyn, and their son Caden, reside in the Boston area. |
---

 After graduation from Hartford State Technical College I worked for Eastman Kodak Company for 23 years having various assignments from Field Engineer to Field Specialist to Regional Service Manager. I began my career as a Field Engineer supporting Business Imaging Systems equipment.  I never serviced consumer products like cameras and projectors but I had the great pleasure of working on some of the most sophisticated electronic, mechanical, optical and chemical devices in the industry.  These ranged from document scan-store-print systems to mainframe computer connected laser writer film printers to high speed printing and publishing to professional photofinishing systems, hospital radiography and even blood analyzers. This interesting work spanned multiple technical disciplines like electrical, computer, mechanical, optical and chemical.  In a single day I could go from visually reading EBCDIC code on IBM Punch Cards, using a logic pen to troubleshoot a digital circuit, replacing worn bearings and shafts, repairing a thermostatic mixing valve, visually reading barcode on film, installing and configuring a mini computer system, developing film by hand with chemicals in a darkened customer lavatory, or replacing a flow restrictor on a water line. We would troubleshoot complex electronics down to the component level. The arsenal in my car consisted of soldering iron, multimeter, logic pen and oscilloscope.  It also included thermometers, pressure gauges, spring scales, air flow meters, infrared sensors and torque meters.
Working for Kodak as a Field Engineer was one of the most rewarding positions in the world.  This was especially true supporting the high-end systems located in the mainframe datacenters.  See my Kodak Images of the Past page.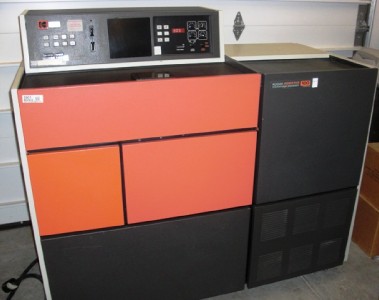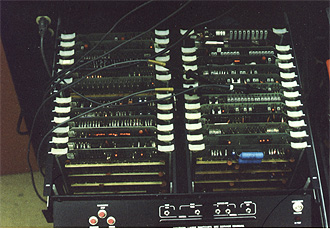 This is the Kodak Komstar Microimage Processor.  It emulated IBM 1403 and 3211 printers found in the mainframe datacenters in the late 1970s through the 1990s.  Instead of printing on paper this device printed on microfiche with a laser.  The laser wrote characters directly on the film with moving mirrors scanning each line and each page. The film was processed (developed) only with heat.  No chemicals or water.  The microfiche came out of the printer ready to use. The Komstar was controlled by a Data General Nova 3/12 minicomputer.  There were 30 or more logic boards. One model had an attached 1/2 inch tape drive.  The other model directly connected to an IBM Mainframe computer through Bus and Tag cables.
Half way through my tenure at Kodak I was appointed to Regional Service Manager, eventually managing the same engineers in Connecticut with whom I worked for years. At one time I had team of of 43 field engineers reporting to me. The normal staff assignment was a little over 20.
When the Kodak Copier division was sold to Danka I continued there for 3 more years where I managed a team of field engineers covering Connecticut and Rhode Island.  My employment with these two companies totaled 26 years.

As a Service Manager, one of the most fulfilling aspects of this job was development of people. This included not only technical proficiency but also development of people skills.  In many ways, we spent more time fixing people than we did fixing equipment.  It was an advantage being a highly technical manager of people. I understood the nature of their work, the customer needs, and how to best develop the engineers skills to succeed.

One of my most difficult and rewarding experiences was giving up several of my most valuable and talented people so they could pursue career advancements by transferring into more interesting and challenging work.  Only a few years later I found myself transferred into that same group and became their manager again.  It was so good to manage people who knew you sacrificed for them in the past and knew you would do it again.
My all time worst experience was downsizing staff.  It seems like that's all we did in the last half of the 1990s.
I remained at Danka after they purchased my division from Kodak. This was one of the darker periods of my career.  I had to perform more staff reductions.  I had a hard time finding any honor, integrity or ethics in the existing Danka culture. It caused me to explore other employment opportunities.  That proved to be a great thing for me.
---

 After serving a three year sentence at Danka I accepted a position at Sun Microsystems as a Regional Technical Support Manager in the Connecticut office.  In this position I was managing several Regional Systems Support Engineers from CT through Upstate NY.  
After the Dot-Com crash, Sun began cutting back on staff.  There were too many managers in my group.  It was looking like I might have to assume additional responsibility in the New York City area.  My manager offered me a position staying in CT which also prevented a downsizing in my group. My new position did not have any direct reports but it was a great job continuing with a great manager. 
The new position had many names over the years:  Strategic Account Manager, Service Account Manager and Systems Service Delivery Manager. I was responsible for customer hardware and software support for several large national and international accounts in the enterprise computing environment.  I supported the Sunfire systems such as F25K and M9000 along with Sun and Hitachi storage systems.  Solaris and Java support were included.  When Sun acquired StorageTek I began to support those customers and products as well. Those included robotic Tape Libraries like SL-8500 and virtual tape systems like VSM and VTL. 
While at Sun I had the opportunity to work along side some of the smartest and nicest people. Like Kodak, it was very rewarding to work at Sun under Scott McNealy. The later years after Scott left were not so pleasant.  It was sad that Sun's senior management was not capable of leading this company into the future.  Like so many computer companies it was destined for a short life.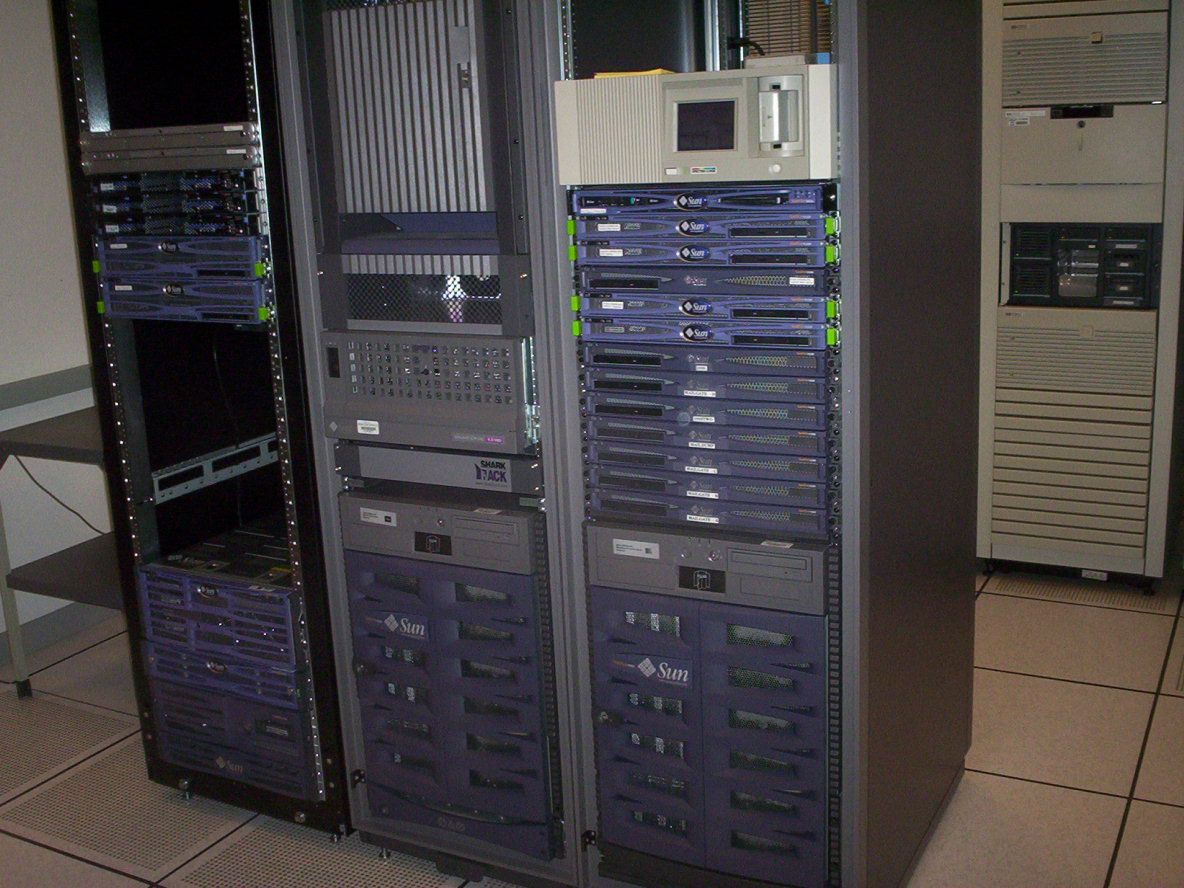 Various Sun Microsystems servers and storage at a customer site.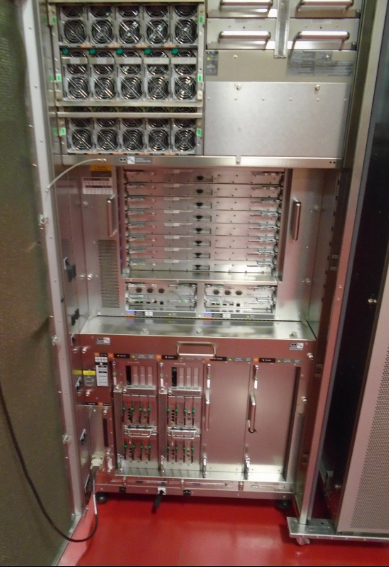 Sun Microsystems M9000
---

  When Oracle acquired Sun Microsystems, my position was retained. I continued at Oracle as a Systems Service Delivery Manager and Principal Technical Account Manager.  My peers and I continued to support a wide variety of hardware and software platforms from high-end servers, mainframe and open systems storage, big data storage and software from Solaris and Linux through all the Oracle database and applications products.  Some of the high-end products I supported were Supercluster, Exatada, Exalogic and ZFS appliances.  Through the years I supported some Pillar storage systems.  I was also responsible for the local integration of the Micros Hospitality Systems customers into My Oracle Support.
Throughout my tenure at Sun and Oracle I was responsible for customer service delivery for several regional and international companies including Aetna, Blackrock, Citizens Financial, CSC/UTC, Mass Mutual, Nasdaq, Pfizer, Priceline, Travelers, Sony, The Hartford, and Wellington Management. Our computer systems were at the core of their day-to-day business that included Human Resources, Payroll, Research and Development, Manufacturing, Open Enrollment, Client Services, Financial and Investment Services, Enterprise Resource Planning Software (ERP), and or course, Oracle Database and Oracle Application software.
At most of these companies I was privileged to be associated with some incredibly smart and honorable people.  From system administrators to vice presidents I have been enriched by their technological depth and their ability to sustain a no-nonsense business relationship while still being good friends.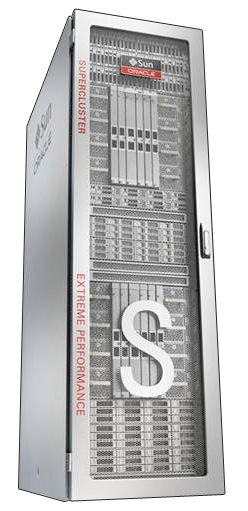 Oracle Supercluster 
---

St. Joseph Church, Bristol, Connecticut
Before retiring and moving away I was active in my parish at St. Joseph Church in Bristol CT for 25 years.
Catechist (Youth, Confirmation, Adult and RCIA)

Workshop Presenter (music, liturgy, sacraments, pastoral council)


National Association of Pastoral Musicians, Hartford Chapter

Retreat Facilitator

Liturgist

President Emeritus, Pastoral Council


Cantor, m

ember of the  Vocal Choir and Handbell Choir

Alternate choral conductor

Published church music composer (Oregon Catholic Press, Passionist Music)

Parish and School Technology and Computer IT Director and Webmaster (volunteer)

2006-2008 Archdiocese of Hartford Lay Ministry Formation Certificate, concentration in Liturgy, Class #33

2008-2014 Instructor, Archdiocese of Hartford Lay Ministry Formation Program, created and

 taught a new class on liturgy

2009 recipient of the Archdiocese of Hartford St. John Neumann Award for service to Catholic Schools

2014 recipient of the Archdiocese of Hartford St. Joseph Medal of Appreciation

2015 recipient of the Archdiocese of Hartford Catechist 25 year Service Award
I really miss the friendship and collaboration of my former pastor and mentor, Msgr. Joe DiSciacca, my Director of Music, Jean Degan, and all my friends at St. Joseph Church and School.
September, 2009. Composer and Workshop Presenter Rory Cooney with the board of the Hartford Chapter of the National Association of Pastoral Musicians. Front row, left to right, Father Joseph Devine, Toni Jardine, Jean Degan, John Swingler. Second row, left to right, Rory Cooney, Jeff Bingham, Rick Swenton.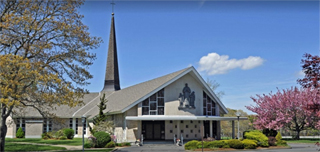 St. Pius the Tenth Church, South Yarmouth, Massachusetts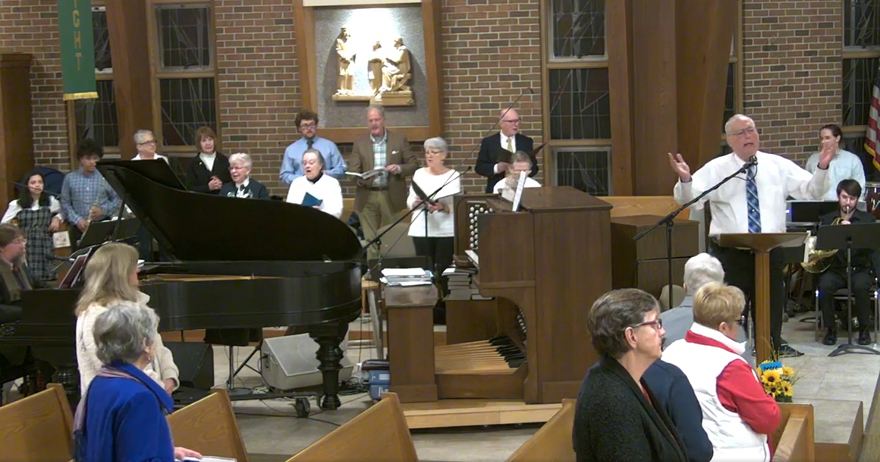 Today I am a member of the choir and a cantor at St. Pius the Tenth Church in South Yarmouth, MA.  I am a frequent guest columnist for The Anchor, a periodical of the Catholic Diocese of Fall River, MA.
St. Joseph Church and School, Bristol CT
For over 20 years, in my spare time as a volunteer, I was the IT Director for a Pre-K through Grade 8 parochial elementary school and church. This included 45 desktop systems, 30 laptop systems, over 60 Chromebooks, assorted BYODs, Smart Boards, network and internet, 3 network printers, 3 network copiers, building-wide managed Wifi, remote access, content filtering and Joomla web sites. You can read the full story here.
Chromebooks in the classroom at St. Joseph School.
---

I am a hard core computer hobbyist with a focus on home automation and remote control of houses and radio equipment over the internet.

I was a Linux user since 1993 having installed the Slackware distro as my first Linux instance. My very first computer was a homemade 8080 system with several 2K EPROMs and 2048 bytes of RAM.  I programmed it by hand in machine language using programs from reference books and an EPROM Programmer I borrowed from work.  I had it interfaced to a Model 35ASR Teletype®.  The software had an editor and assembler.  I could write programs on the Teletype® in assembly language and save them on paper tape!   My first real computer was the Heathkit H89 which I built in 1983. At that time I was trying to choose between the Heathkit or an IBM PC.  I chose the Heathkit for several reasons.  First, I would build it and know more about it.  Second, it came with schematic diagrams.  Third, it came with source code, even for the BIOS and ROMs.  There was a very active community of which I became a contributing member.  Although I no longer have any of this old equipment I can bring up CP/M and Wordstar 4 on my Android phones or tablets.  As time went on I accumulated many different 8-Bit CP/M capable systems.  I had the Heathkit H89 and H8 as well as a Kaypro-10 and even an Intertec Compustar.  I built two Ampro Little Board systems.  For the H8 I designed and built a new CPU board with a 4 MHz Z80 with onboard 64k static memory (two chips) and onboard serial ports.  My single board board design replaced three boards in the H8 cabinet.
My friends and I re-wrote the Heath BIOS for the H89. We converted it to Z80 instructions, improved efficiency and functionality, reduced its size and added ZCPR3/Z-System support. We eventually built Ampro and Micromint SB180 systems and modified hardware and software on those systems with a passion. At this time, overclocking meant going from 2 MHz to 4 MHz!  That's Megahertz, not Gigahertz!  Before the internet we used modems and the nationwide telephone network to connect to each others computers through what was called Bulletin Board Systems. This was at the time AOL and GEnie were emerging.  Some of us subscribed to a service called PC-Pursuit.  It was a service that allowed you to use your modem to dial other modems without having to pay the standard phone company toll charges for long distance calls.  My first modem was a 300 baud acoustic coupled device.  This was where you dialed the other computer manually with your phone.  When the computer connected you placed your handset into the modem's rubber cups to couple the sound from the handset into the modem rather than being direct wired.  It was very slow.
I was on the internet with a dial-up modem in 1988 using telnet, ftp, kermit and email and used the Mosaic Browser to surf the web in 1993.

Besides articles on Ham Radio I authored many magazine articles published in REMark, the journal of the Heath/Zenith Users Group. (Bill Gates also had articles published there although we did not appear in any of the same issues.) I also authored articles for The Computer Journal and I was associate editor of the SEBHC Journal (Society of Eight-Bit Heath Computers) and a regular contributor.  I also wrote for Pieces of Eight, a Hartford area 8-Bit Computer newsletter.
In 1989 I created an X10 home control software package for CP/M that used the X10 CP290 interface. This program used the standard modem software IMP/MEX serial port overlays which allowed the program to run on all the popular CP/M computers of the day.  All these programming initiatives were accomplished in Z80 assembly language. In modern times my home is controlled by computer and accessed over the internet including by smartphone and voice control over Alexa.  Lights, heating, air conditioning, locks, security and environment are monitored and controlled through web pages, smartphone or Alexa.  Home automation interfaces now include platforms based on Z-Wave, Arduino and Raspberry Pi.  See my Home Automation Page.
Unfortunately I can't locate a copy of the source code for X10.COM but I did find a paper copy of the User's Guide.  In its day X10.COM allowed 8-Bit computers using CP/M to provide a home automation system with many features.  There were even X10 interfaces to provide dry contact relays and isolated contact closure or DC voltage inputs. 

While working at Kodak I supported computer platforms from ADDS, Prime, Digital Equipment Corporation and Data General.  In those days, networking usually meant serial RS232 connections at 9,600 baud!  Making a network cable involved soldering wires on DB-25 connectors to make serial cables.  Hard drives were 14" Winchester style with "voice coil" stepping.  They were usually in the 10 to 60 megabit capacities.  Modems started at 110 baud and some were acoustic coupled.  That means you took the phone handset and placed it into the modem's rubber cups which transferred the modem tone sounds in and out of the handset acoustically into the mic and speaker in the rubber cups. 
I once had a Data General 1220 minicomputer at home interfaced to a Model 35 ASR Teletype®.  The computer had 16k Core Memory.  I had a Basic interpreter that I loaded from paper tape through the Teletype®.  Since Core Memory is magnetic and not solid state, when you powered up the computer, the program that was in the Core Memory just picked up where it left off.  No battery or standby power needed.
While working at Sun Microsystems I had the pleasure of exploring all kinds of Sun hardware at home with a fair amount of experience installing and configuring Solaris 6 through Solaris 10 and Sun-Branded SuSE Linux.  I was the office geek with the Triple-Boot laptop that could boot Windows, Linux and Solaris.  At one point in time I had a SunBlade 100. Sun Ultra-1, Ultra-5 and two Ultra-30 systems at home with an S1 Storage Array.  I had them all "phoning home" under Sun's Net Connect to show customers how easy it was to monitor their systems and report problems.
I was an expert hacker of the Motorola Razr V3c, the Palm Treo 655p and the Nokia N770 and N800 Internet Tablets.  I used to tether the Razr to the N800 over Bluetooth and the 1G cell network at 19.2kbps! In 2000 my daughter was using AOL Instant Messenger to converse with her middle school friends from my car using the 1G cell connection through my laptop.  They never believed her that we were in the car driving around.  I had the original Droid 1 with Cyanogen Mod 5!  Today I continue to push the limits of current Android-based phones and tablets by unlocking the boot loaders, gaining root access and exploring community created ROMS.  I currently enjoy my Google Pixel 4 using Google Fi service, rooted and with an unlocked bootloader, of course.
---

I am a licensed Amateur Radio Operator and repeater builder.  My callsign is W1RHS and I hold an Advanced Class License.  In 1969 I obtained my Novice License as WN1LMV when I was 16. I held the call sign WA1LMV since 1970.  I started a Ham Radio club in high school and we installed a tower on the school roof.  I was probably the only person who could walk the roof during a school day without anyone becoming concerned.  Can you imagine if anyone tried that today? In 2016 I obtained the vanity callsign W1RHS.  Besides operating voice modes I also communicated with other hams using Teletype machines back in the 1970s.  My first Teletype was a Model 15.  [You Tube Video] Can you imagine using one of these in a rented apartment?  I also had Model 19, 28ASR and 35ASR machines. [You Tube Video] Thanks to a good friend in the phone company, I had the special service tools and manuals.  I became proficient at repairing all kinds of problems.  You know these are old because they print in upper case only! 

I built and operated several VHF and UHF repeater systems throughout central Connecticut. Among those were the 28/88 machine WR1ABM in Avon and later in Bristol and the 75/15 machine WR1AFU in Burlington.  I was one of the 6 Meter repeater pioneers in Connecticut with WR1AIB on the air on 52.01 / 53.01 in Burlington in 1978. I developed custom repeater control logic that evolved into a personally designed microprocessor based controller. I wrote the microprocessor software myself which consisted of 170 pages of Z80 assembly language instructions. See my Ham Radio Page.  The source code to the controller is there too!

I also have a General Mobile Radio Service (GMRS) license - WQZQ564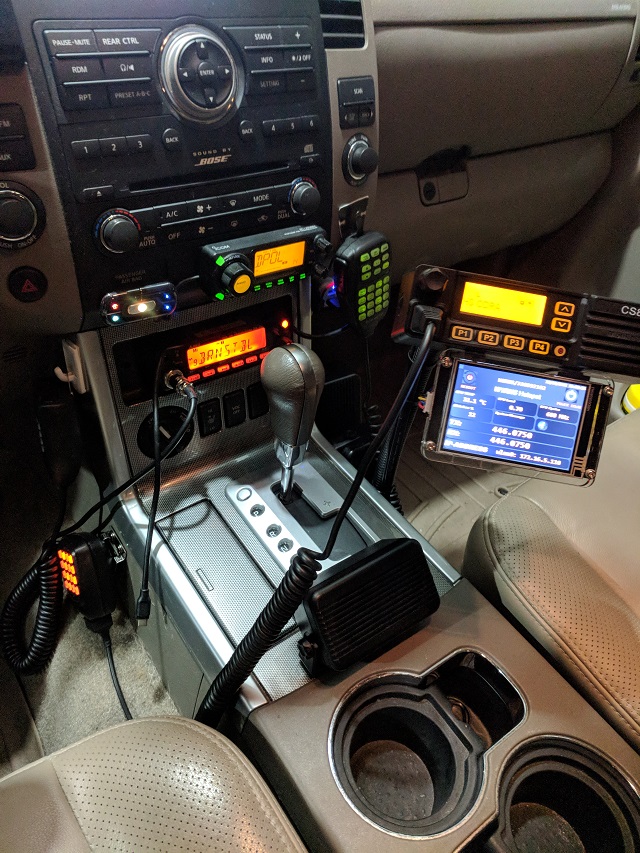 Today my friends and I are using the latest digital communications technology on ham radio Repeaters.  This is a picture of inside my car.  See my Digital Ham Radio Pages.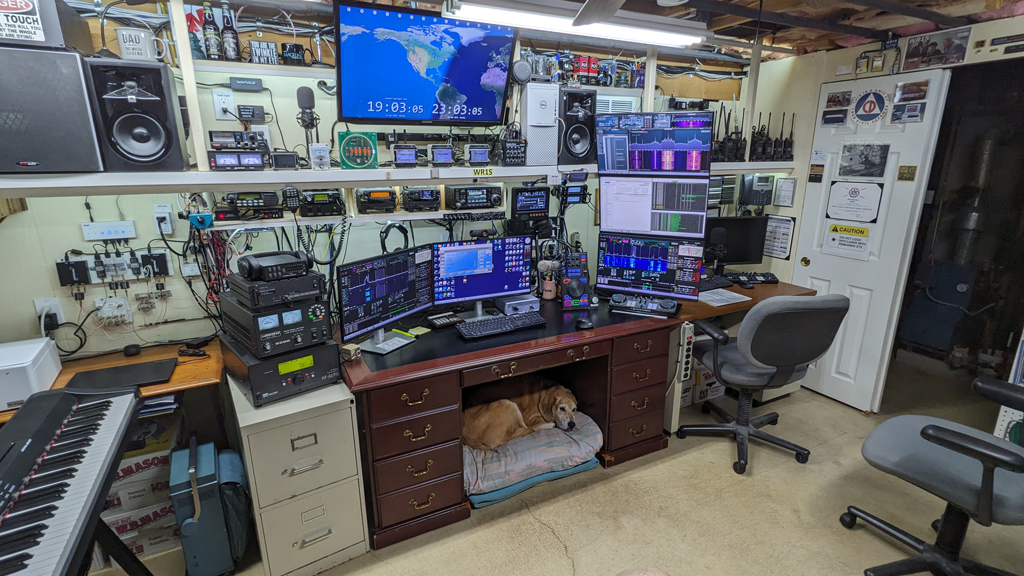 Here's what the current Ham Radio station looks like after renovations in the summer of 2020.  There's just too many wires to make it look pretty. Unlike Ham Radio equipment of old, the modern equipment is smaller and has fewer controls.  In fact, my best radio only has a power switch.  Everything is controlled from the computer screen.  My rescue dog, Gracie, lives under my desk.  It was her choice.  Sometimes we have to share. Yes, that is an original Civil Defense logo on the wall. Besides being affiliated with the local Civil Defense as a ham radio operator I was certified in fallout shelter management and radiological monitoring.  Back then we thought it was possible to survive a nuclear war. We could ... for about a week or two. Click on the photo for a larger image.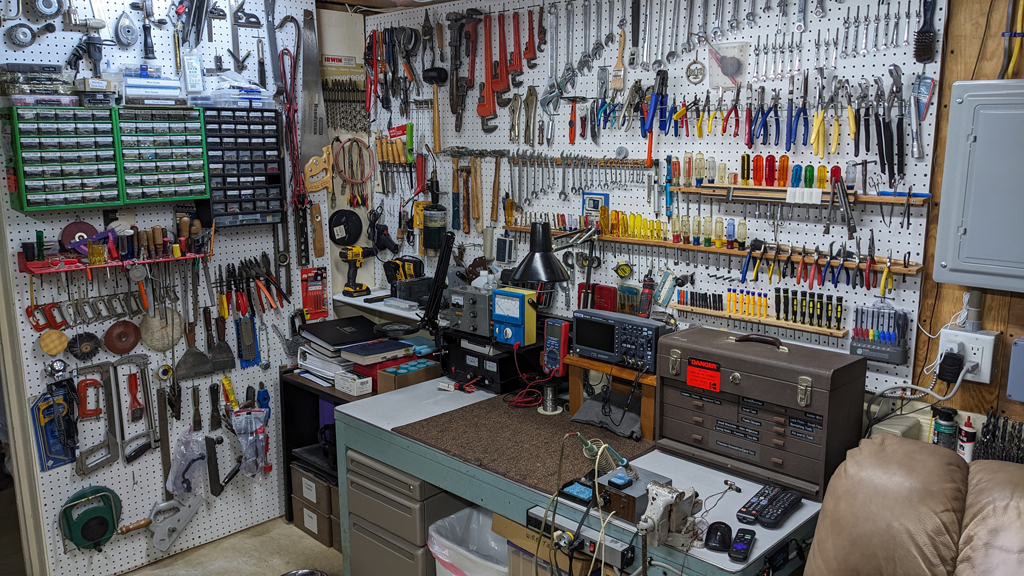 This is the other side of the workshop where all the fabrication and repairs happen. This array of tools is a combination of my own tools plus those of my dad and my father-in-law. There's more on the garage wall and shed wall and there's more that I have given away.  Power tools are hanging on the wall behind the left panel. Click on the photo for a larger image.
The panoramic view is more impressive and highlights the efficiency and organization of the Ham Radio Station.
---
From time to time I have been seen flying my AR Drone 2.0.  I documented my exploits here and some of my flight videos are near the end of the article.
---
Hartford State Technical College
AS, Electrical Engineering Technology, with Honors, 1974
I specialized in Communications and Digital Systems.  This was before the Personal Computer revolution.  My friend and I did have exclusive use of the school's old IBM 1620 mainframe even though we were not computer science majors. We managed to get the 1620 to play Christmas tunes as buzzing interference noise on a local AM radio. To change from Fortran to Cobol you had to swap a disk pack in the disk drive which was the size of a washing machine. 

As a student I self-published "The Reverse Bias Report," a renowned underground newsletter. It received rave reviews.  Each issue was highly sought after by students, faculty and even some administrators. Each new issue was anxiously anticipated. The Reverse Bias Report was revered over the school sponsored student newspaper.  It consisted of humor, parody, sarcasm and a lot of fun. I printed 100 copies of each issue myself using a spirit master duplicator commonly called a Ditto machine.

I pioneered the use of integrated circuits to replace transistors in lab projects. A one semester lab project was to build a regulated power supply that used several transistors.  I went home that day and designed and built a two channel regulated power supply using one transistor and one IC in each channel.  I returned to school the next day with the finished power supply in a cabinet with a meter and dry transfer lettering.  I still have and use this power supply today. They weren't quite sure what to do with me for the rest of the semester.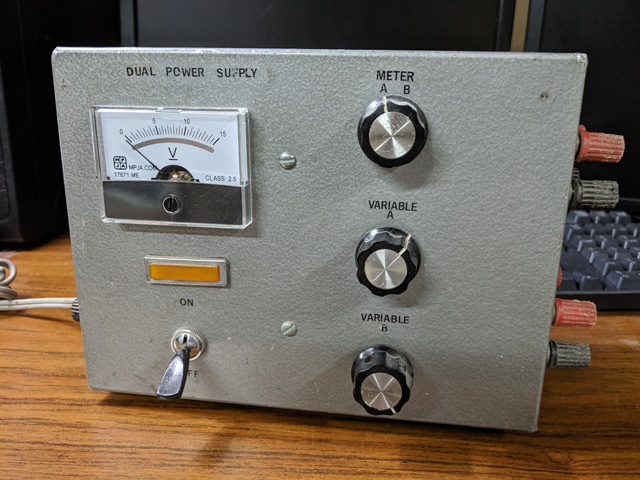 I designed and built a Digital Frequency Counter for my senior project. I have the Project Report but unfortunately I no longer have the finished product. 

After graduation I served on the college's Industrial Advisory Council for about ten years. We helped the college modify their curriculum to improve student skills in the areas being sought after by local high tech industries.
The professors were top notch.  Several worked summer jobs in the local high-tech manufacturing industry and brought back valuable insights.  This period in time was the height of TTL Digital Logic.  We became immersed in the technology.  One of my most treasured books was the Texas Instruments TTL Data Book. In those days it was uncommon to have a digital clock in your car.  I built my own with about 16 TTL ICs with a crystal timebase and LED displays.  It was quite large, about half the size of a kid's lunchbox but it looked cool under the dashboard mounted next to the 8-Track Tape Player. It was hard to keep the ICs powered up during engine cranking.
Because of my Ham Radio background I was the only student who could still build working projects in the lab using vacuum tubes. The instructors frequently had me replicate one of the solid state lab sessions with vacuum tubes just for fun.  We had some great times with some wonderful people at HSTC. I should mention that Jon (Mad Dog) Hall of Linux fame taught Computer Science there but it was a few years before my time. My daughter, Cathy, actually got to meet Mad Dog in Boston at an ACM meeting when she was in college.

I knew HSTC was a cool place.  It had a reputation for having a strong Nuclear Technology program in the 1960s to 1970s when nuclear power was becoming popular.  Here is a very interesting site that documents the probability that HSTC actually had a working nuclear reactor on campus!  I walked by the place it might have been located every day as it was near the entrance to the cafeteria.

Publications
Over the years I have authored articles about computers, ham radio and home automation for several national magazines. Besides these articles I was an Associate Editor of the SEBHC Newsletter (The Society of Eight-Bit Heath Computers) and was a regular contributor.  More recently I have been a frequent guest columnist for The Anchor, a periodical of the Catholic Diocese of Fall River, MA.